Our meetings are at the FeG Siegen-Weidenau. This is the white building close to the pedestrian traffic lights between Paul-Bonatz and Hölderlin-Campus. The entrance is on the opposite site of the street.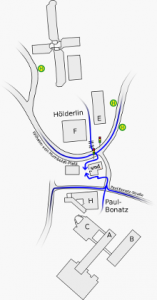 SMD Siegen
Wilhelm-von-Humboldt Platz 4
57076 Siegen
On facebook you find some pictures: SMD Siegen on facebook
Visit us also on Instagram!
Do you have any questions? – Contact our us by mail: siegen@smd.org
Or send us a message using the contact form below.
Would you like to receive regular information from us? – Subscribe to our newsletter:
Subscribe: Link to subscribe
Unsubscribe: Link to unsubscribe